Organization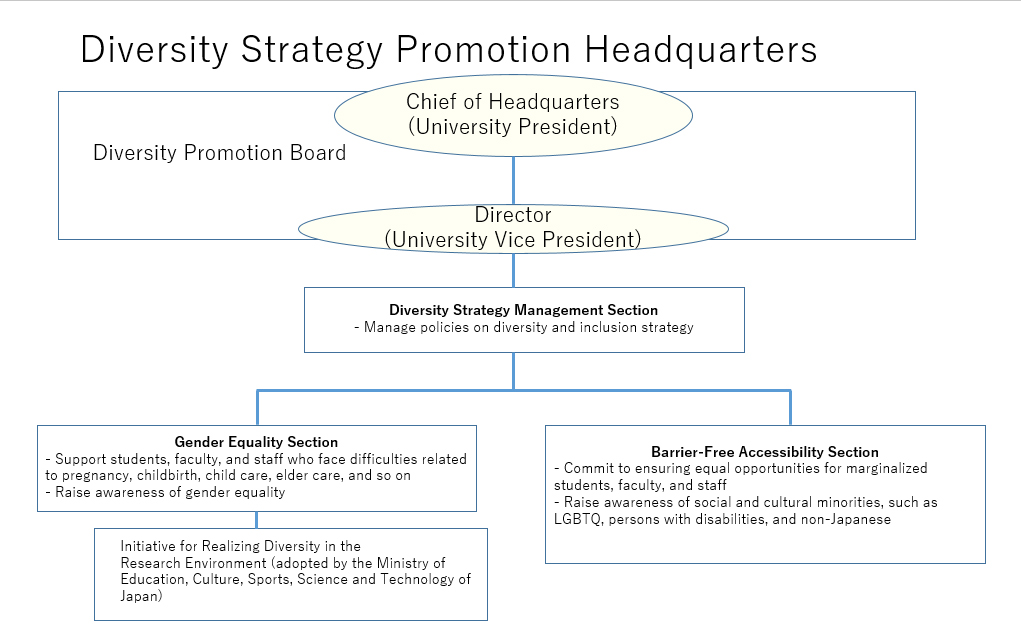 YNU launched the Diversity Working Group in 2016 to promote changes in awareness and make the necessary arrangements for the improvement of education and research through communication between members with the goal of allowing them to fully develop their individuality and potential irrespective of gender, nationality, age, race, disability, values, career, experience, mode of working, and the like. After a series of cross-sectoral discussions over the current realities and challenges of diversity, we have established the Diversity Strategy Promotion Headquarters in April 2020.
Sections
Diversity Strategy Management Section
"Gender Equality Section" and "Barrier-Free Accessibility Section" will be bundled to coordinate activities related to diversity promotion and to coordinate with various organizations.
Gender Equality Section
Gender Equality Section will support both men and women to participate in society and play an active role in encouraging young people to create a future where men and women can participate without barriers and to secure diversity at our university.
Basic Policy
Yokohama National University Basic policy for promoting gender equality

Realization of substantial gender equality in educational, research, and employment settingsYokohama National University shall abolish discriminatory treatment due to gender differences, as a place for education, a place for research, and a workplace for all members. We will continue to do our utmost to create an internal environment that respects each other as equal individuals and enables them to fully exercise their abilities.
Adoption of positive improvement measuresYokohama National University shall take positive improvement measures beyond formal gender equality in order to achieve substantial gender equality in educational settings, research settings, and workplaces.
Enhancement of education, research, and daily activities for realization of the gender qualityYokohama National University shall continue to actively engage in the educational and research activities and contribute to the promotion of gender equality in the region, Japan, and the world under its own initiative or in active cooperation with other parties, as well as through all the activities of the university.
Action plans
Action plan for next-generation upbringing support measures

The following action plan will be formulated so that all faculty members can fully demonstrate their abilities by creating an environment where all faculty members can balance work and life including raising their children at the same time.

1 planning period

April 1, 2018 – March 31, 2023

2 Goals and measures

Goal 1

Enhance and develop various efforts to support faculty members to the balance between work and child care and nursing care.

Measures

Promote support and cultivate awareness within the university, including temporary childcare and work-life balance seminars.
Conduct a questionnaire survey to understand the current situation of faculty members' work and family life, and examine and implement effective measures.

Goal 2

Create an environment that makes it easier to take annual paid leave and further reduce overtime work.

Measures

Set and publicize annual leave acquisition encouragement days and no overtime encouragement months for each season.

Goal 3

Within the plan period, male faculty members will take childcare leave or shortened working hours for childcare, and the female faculty staff will take childcare leave at 80% or more.

Measures

In addition to taking childcare leave, male faculty and staff will also be aware of the fact that they can acquire shorter working hours for childcare, childcare hours, and early and late working hours for childcare, etc. by enlightening them by using public relations magazines on campus and promoting an environment where it is easy to take.
Action plan based on the law concerning promotion of success in women's professional life

We develop an action plan in order to promote work-life balance in which we can smoothly engage in individual activities, to support diverse and flexible work styles, to create a comfortable work environment and to create an employment environment in which women can play an active role.

1 planning period

planning period

2 Goal and Measures

Goal 1

The enrollment ratio of female teachers will be 19% for the entire university in the final year.

Goal 2

Appoint female directors and achieve 13% or more of the percentage of women in managerial positions.

Measures

Hold seminars and lectures for managers and staffs to raise awareness about gender equality.
Provide a place for the exchange and consultation with female undergraduate and graduate students, and female researchers, especially for female students of science and engineering.
Provide grant incentives to the departments that have hired female researchers, as a part of measures to promote the recruitment of female researchers,.
Start information distribution and enlightenment activities for men who are eligible for childcare and family care leave.
For faculty and staff who are involved in childcare and nursing care, consider work assignments for entrance examinations and events.
Create a system to widely evaluate faculty members involved in childcare and nursing care.
Create an environment where it is easy to take annual paid leave and promote the reduction of overtime hours to promote work-life balance.
YNU Academic Carrier Entry for Female and Foreign researcher (ACE for FF) operates "a site where you can always get the opportunity to enter and appeal, regardless of the timing of the open call for participants".
The Third Medium-term Plan

[extracted] #14-5 Goals on appointment of female directors and managers)

1 planning period

FY2016-FY2021

2 Goal

To promote the active participation of women, we will appoint female directors and achieve 13% or more of female managers. We aim to achieve 19% or more for the female academics ratio at the end of the medium-term plan period, by engaging in the proactive recruitment of women through various initiatives based on the Yokohama National University Gender Equality Action Plan, while further enhancing and continuing the support activities that have been implemented so far …
Initiative for Realizing Diversity in the Research Environment (Collaboration Type)

YNU and its partner organizations, namely TAISEI CORPORATION and TEIJIN LIMITED, were selected for the "Initiative for Realizing Diversity in the Research Environment (Collaboration Type)" under MEXT's Science and Technology Human Resource Development Support Program for FY2018. For the implementation of this project, the "Diversity Liaison Council KT" was formed by industry, academic and governmental members based in Kanagawa (K) and Tokyo (T). Being the representative organization, YNU will work in mutual cooperation with all other organizations, while taking advantage of the characteristics of each organization and region, to provide diverse research environments, and at the same time lead promotion of female researchers and engineers.
History of gender equality at YNU

April 2013
Established Gender Equality Promotion Center
Activities (example)

Researcher Miharusu (FY2013-2018)
Discussion meeting between executives and female researchers

April 2020
Establishment of Diversity Strategy Promotion Headquarters
Barrier-Free Accessibility Section
The central organization of the Barrier-Free Accessibility Section is the Office for Students with Disabilities at Yokohama National University. Our aim is to remove barriers for students with disabilities, LGBTQIA students, and other similarly placed people who face social barriers and to provide support and awareness-raising activities so that they can be active participants in our university.
Basic Policy
The policy of Yokohama National University to promote barrier-free on their campus is based on the principles of "Be Active," "Be Innovative," "Be Open," and "Be Global" in order to become a university without segregation or separation among students on account of social barriers. The aim is to establish a university where students can learn while respecting each other's personality and individuality in order to support the independence and social participation of students who face social barriers. The university also aims to provide the educational support necessary for them to receive the education needed to surmount social barriers.